Documents
All Documents you need to manage your Company EASILY
Document template / Estimate / Invoice / Proforma invoice / Deposit invoice / Credit note / Recurring invoice / Purchase order / Delivery order / Production / voucher / Return voucher / …
All your documents available and up to date – in real time!
List of documents summarized on your page.
Filter your data according to your criteria, the result is instant!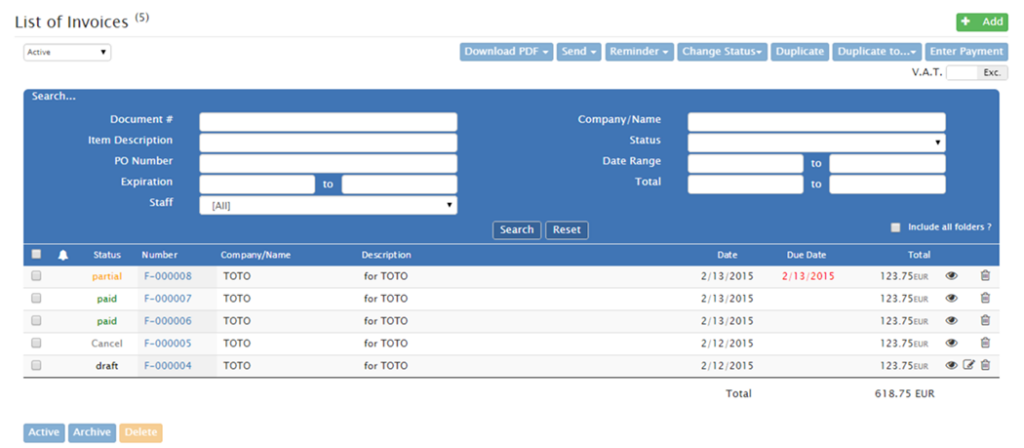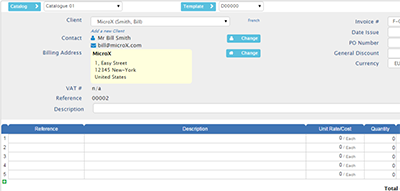 A simple, powerful and intuitive document generator
Create estimates and invoices is often error-generating and tedious
With our document generator, it will all seem easy and quick
Simple, intuitive, fast, your documents are ready in minutes, to the delight of your clients
Easily Customizable invoice Line Items
Easily select items from your own catalog – or more, just build it as you type.
Quickly access your catalog online
Add items on the fly
Change information as you need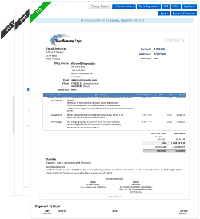 Professional invoices and estimates designed for you !
Beautiful invoices and estimates can improve the way you do business and finally get paid!
Using professional design, your clients will see you as a serious person they can trust. Choose various styles, with different fonts, colors and place your company's logo.
We also design specific template on demand, just ask….
Automated Email Reminders
Automatic reminders will send a message directly to your clients to remind them for non-approved estimates or non-payment invoices.
We do everything for you, no need to chase them anymore.
Accept Online Payments
Just forget how your client pays you !
Do not manage payments anymore,
Your clients pay – online – and directly to your bank account (Paypal, bank, ….),
SalenGo update your documents with the payments received, nothing to do on your side,
You are notified by email and/or SMS.