All your contacts, invoices and products, for your business, centralized at the same place.
Manages your clients, leads, suppliers. Create your own mailing lists
Send invoices, track time, payments and expenses in seconds.
Simple, fast and intuitive.
Saving your time, saving your money, saving your stress.
Automatic recurring invoices and reminders.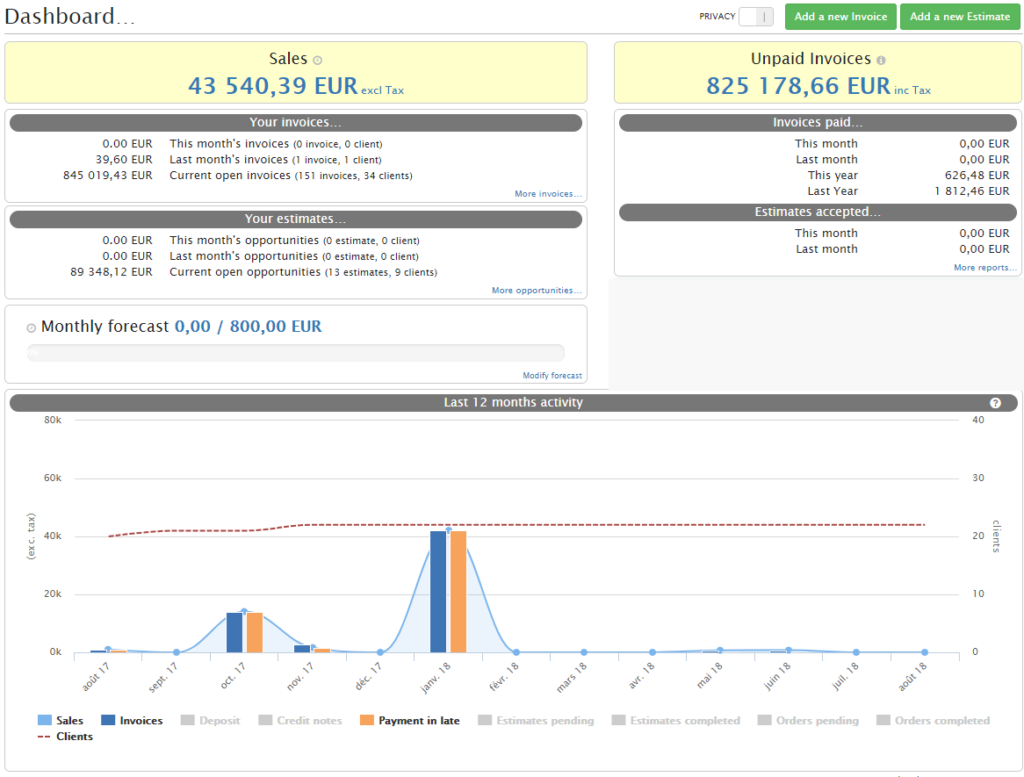 Why choose SalenGo ?
Send Invoices Faster Get Paid Faster
Create easily in 20 seconds your documents, send them by email or ground mail and enter payments for all of your clients.
Transform Estimates & Orders To Invoices
Simply send estimates, have them approved online, and convert them to either delivery orders or invoices so you can be paid faster.
Automate Everything !
Use our recurring invoicing to do the job for you and let SalenGo send out your invoices directly to your clients at your convenience. Simply wait for your payment !!!
Record Your Expenses
Track your expenses in real time, check your balance against your forecast and double-check with your banking account. Get your company balance in real-time.
Your Finance At Your Fingertips
Quickly see estimates approved, invoices paid (or not!), orders on going. Generate your own reports easily, when you want and in real-time. Now, put your stress behind you and forget to remind people for non-payment, we do everything for you!
Easily Create Delivery Orders
Transform Purchase Orders to Delivery Orders easily for your production teams. Avoid bad typo, mistakes and create specific reports.
Manage Your Production
Manage the monitoring of your production team according to your orders: production order, deliveries and tour, all in one platform…
---
Professional Online Contacts and Invoices Management
Online Billing Application
Clients, contacts, leads, suppliers,
Estimates, invoices, proforma, credit notes, purchase orders, production orders, ,,,
Catalog, products, services,
Reports,
Create, edit, modify, send all your documents quickly, and easily,
Online contacts and estimates / invoices application, intuitive and interactive.
Allowing you to manage your contacts (clients, leads, suppliers), your billing and your accounting like a professional.
After a couple of minutes, you will love it.

Just try to adopt it!
Save Time and Effort with our Online Invoicing Software…
SalenGo is simple and efficient web based software built for you and your teams.

It helps you to painlessly send invoices, track payments and produce reports. Using it is a relief, not a headache !