Automation
Maximize control, scalability, and efficiency with customizable invoice control.
Let the system do the work for you while you are focus on your business.
Automate Estimates Reminders
Tired to go back to your clients to get estimates approved ?
Let's the system chase back your clients for you. Simply pre-fill the template email and the system will kindly remind your client that they have non-approved estimates waiting in his inbox.


Automate Invoices Payment Reminders
Focus on your work while we do the payment follow up.
Using your defined template email, the system will automatically send reminders to your clients for non payment, inform them that they past the deadline. and you have the choice to email send reminder by email or SMS (or both).
Recurring Invoices
Doing business with a client on a regular basis?
Create invoices and set recurring dates to automatically send them next time. SalenGo supports recurring invoicing, expenses or billing.
This is useful if your business needs to send invoices on a regular or a repeat basis (like subscription, house renting, etc…).
You can specify a schedule for a recurring invoice and the system automatically generates invoices based on this schedule.
You will also specify if you want the invoice to be draft only, or send directly to your client.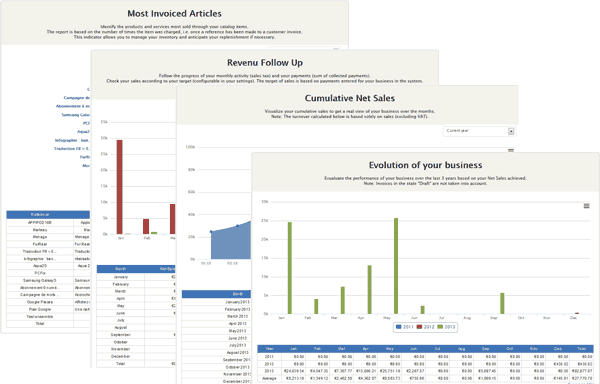 Business & Staff Reports
You like to generate reports to know what's going on in your business, what's your best sales, your best clients…
Enjoy receiving your weekly report each Monday before yout staff meeting. With SalenGo, you can schedule which reports to receive, when and who…